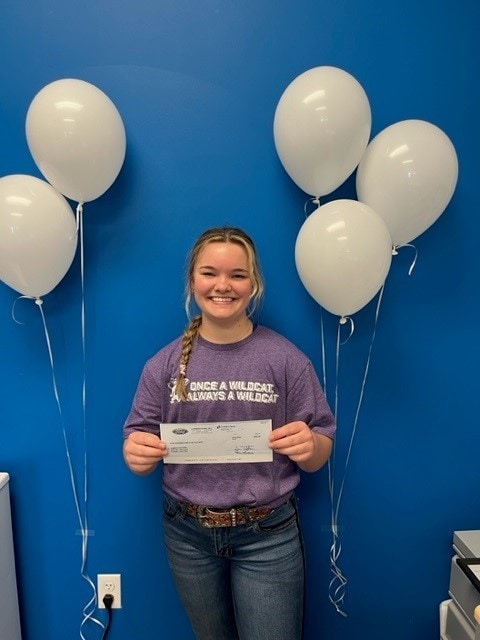 Congrats Camryn!
May 22, 2023 - We are proud to announce the recipient of the Lubbers FFA Scholarship as Camryn DeVore of the Cheney Chapter. Camryn plans to attend K-State to major in Animal Science and Industry, and minor in Agricultural Communications. Congratulations Camryn, and best of luck in your future endeavors!
23rd Annual Friends of Cherry Oaks Tournament
May 5, 2023 - Mark your calendars to join us for the Friends of Cherry Oaks Golf Tournament on Sunday, June 25th. This tournament has funded additions and improvements to our local course since 2001, and an event with that kind of staying power is SURE to be an outing you don't want to miss! For more information or to sponsor, contact Mark Scheer or the Pro Shop at (316) 540-0133.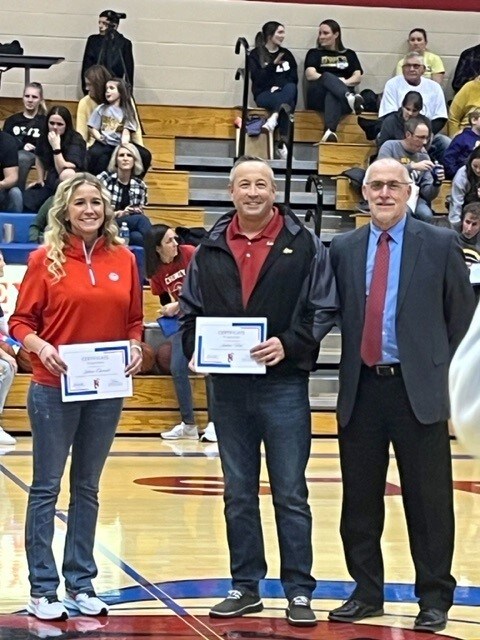 Thanks Cards!
January 9, 2023 - We want to thank Cheney HS for recognizing us at the basketball game last Friday against Garden Plain. With the help of Citizens State Bank, we were able to replace the scoreboards in the gym. We may be biased, but have to say they look pretty great! Thanks again for the hospitality!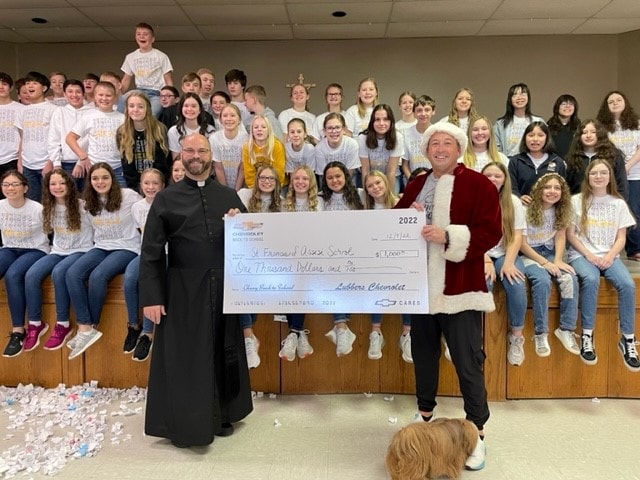 Santa Who?
December 13, 2022 - Thank you to everyone who participated in the St. Francis of Assisi Chevy Back to School Test Drive Fundraiser. As a result, Lubbers was able to provide $1,000 in sponsorship dollars to SFA! We're proud to support our local schools and the education of students of all ages.
CACSC Heroes Gala
November 7, 2022 - If you are unfamiliar with the Child Advocacy Center of Sedgwick County, we invite you to learn more about the life-changing work they are doing in our community. Their talented team includes medical, therapy, investigative, judicial and advocacy services for victims of abuse, internet crimes, human trafficking and runaways.  Please consider CACSC in your year-end contributions, and in your generosity throughout the year. 
6th Annual First Responders Golf Outing
September 12, 2022 - Lubbers was once again honored to be a part of Reflection Ridge's First Responders Golf Outing held Sunday, September 11th. This event is an opportunity for us to join with other local sponsors in thanking our First Responders throughout Sedgwick County. Thank you Reflection Ridge for another great event, and thank you First Responders for your service and dedication!
Another Tourney in the Books
July 6, 2022 - This year marks the 22nd annual Friends of Cherry Oaks Benefit Tournament, and we want to thank you all for making it another successful event. Since its inception, this tournament has funded more than $455,000 in additions and improvements to Cherry Oaks! Some of those improvements include the outdoor pavilion, on-course restroom facilities, cement cart paths and more. This year's proceeds will go towards the back 9 rough irrigation. A BIG thank you all of the sponsors, organizers, and participants who make it all possible!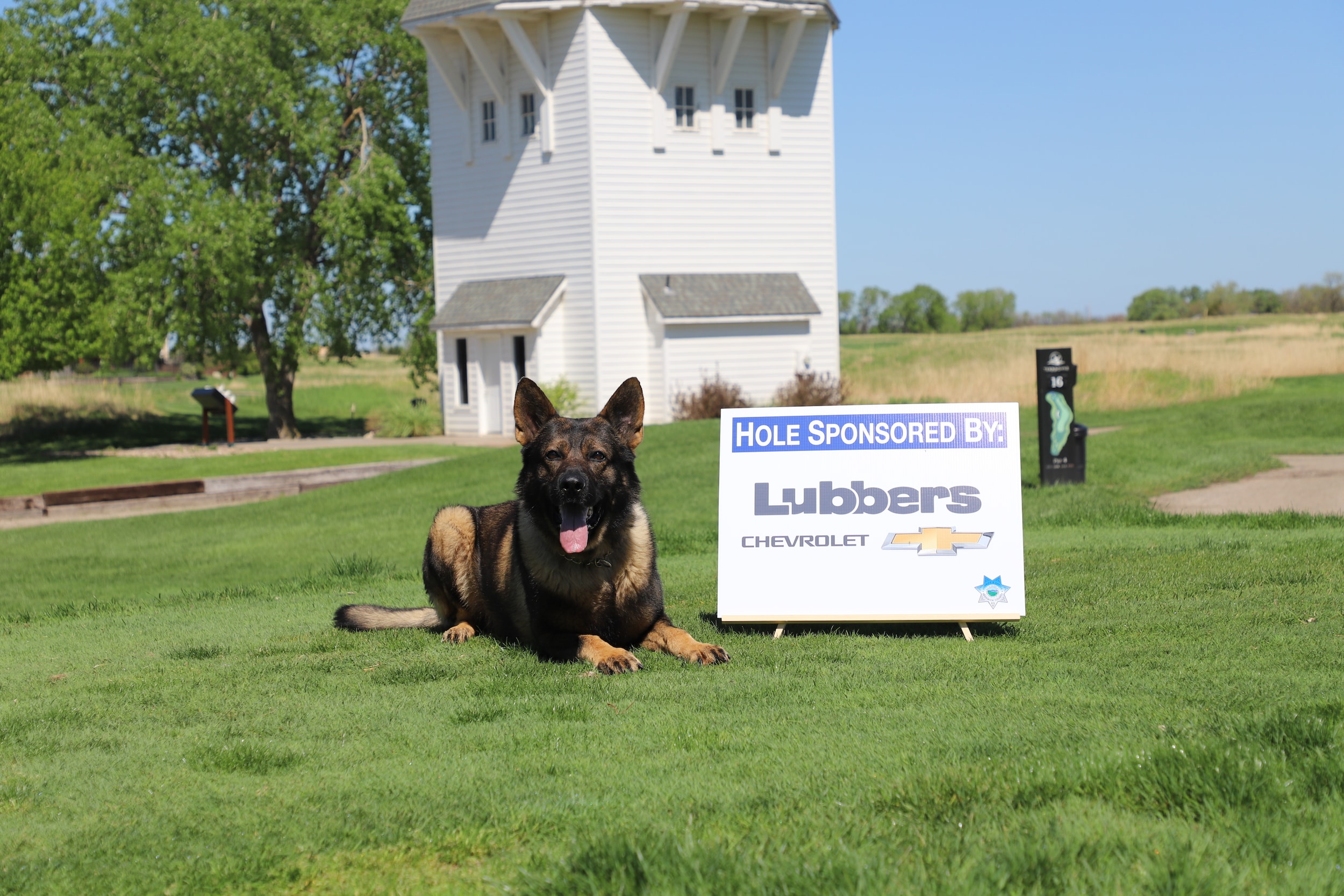 Just going to put this K9 Unit awesomeness here. You can rep us anytime! 
FFA Scholarships Announced
June 1, 2022 - Congratulations to Zachary McClellan and Brandon White of the Cheney FFA Chapter, and Cody Simons of the Renwick Chapter, for being awarded the FFA Built Ford Tough Scholarships for 2022. Best of luck to you in your future studies!
22nd Annual Friends of Cherry Oaks Benefit
May 5, 2022 - Mark your calendars to join us for the Friends of Cherry Oaks Golf Tournament Sunday, June 26th. This year's proceeds will go towards funding the back nine rough irrigation project, and if you've had the chance to join us before, you know it is a golf outing not to be missed! It is a four-person scramble with shotgun starts at 8:00am or 1:30pm, and the entry fee includes greens fee, cart, range balls, flight prizes and beverages throughout the day. For more information, or to help sponsor this event, please contact Mark Scheer at (316) 540-0133. Thank you for supporting this great golf course!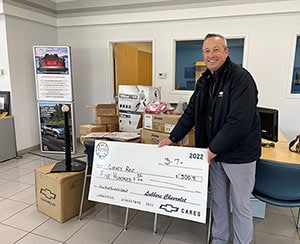 Partnering for America's Pastime
April 11, 2022 - We're proud to once again partner with the Cheney Recreation Commission. Lubbers has joined forces with the national Chevrolet Youth Baseball & Softball program to provide new equipment, invitations to free instructional clinics and an opportunity for community members to earn donations for their league via a test drive fundraiser.
"Playing baseball and softball helps kids develop skills like leadership, cooperation, and sportsmanship while bringing families and communities together to show their support. Lubbers Chevrolet and Chevrolet Youth Baseball & Softball are proud to participate in a sport that brings so many smiles to kids and families in Cheney." said Billy Lubbers. 
Lubbers Chevrolet will present Cheney Recreation Commission an equipment kit that includes useful items such as equipment bags, first aid kits, batting tees, and ball buckets. The sponsorship also includes youth clinics featuring current and former MLB/MiLB players and coaches, or instruction from Ripken Baseball.
In addition, Lubbers will present a check representing a one-time donation to Cheney Recreation Commission. Sponsored leagues across the country will have the chance to earn additional funds to support the league as community members take test drives at their partnering dealership.
For more information about Chevrolet Youth Baseball & Softball, please visit www.chevrolet.com/youthsports.com.
K9 Unit Golf Tournament
March 23, 2022 - Mark your calendars for the 2nd Annual Sedgwick County Sheriff's Office K9 Unit Golf Tournament Saturday, May 7th. Hosted by the Sedgwick County FOP Lodge #074, this 4-person scramble will be held at Terradyne Country Club, with dinner, drink tickets and prizes included with entry fee. Email Tyler Brooks at Tyler.Brooks@sedgwick.gov to register your team, and thank you for your support of the K9 Unit!
Chevy Everyday Hero
December 6, 2021 - Congratulations to Retired Army Sergeant Craig Paredes and family on their new Traverse! The keys were awarded last night at the WSU Men's Basketball game on behalf of the Military Warriors Support Foundation and the Hometown Chevy Dealers. We hope you love the new ride, and THANK YOU FOR YOUR SERVICE!!
Cherry Oaks Benefit Tournament
June 4, 2021 - Make plans to join us Sunday, June 21st for the 21st annual golf tournament to benefit Cherry Oaks Golf Course. Since it's inception, this tournament has funded more than $400,000 in additions and improvements to the golf course, all thanks to the support of the players and sponsors like you! It is a 4 person scramble with shotgun starts at 8:00 and 1:30. Don't miss it!
Kudos To Our Talented Technicians!
February 22, 2021 - Last month, Steve Rausch was awarded his Senior Master Technician award. Steve had to complete 15 classroom courses totaling 50 days of training, and 57 web courses averaging 2 hours for a total of over 500 hours of training. He, also, had to have a minimum of 5 years at a Ford dealership.
This month, Matt Alley received his annual award for retaining his Senior Master Tech status. Senior Master Tech status is retained by taking new training and electives each year. This takes hard work and dedication. Matt has been a Senior Master Tech since 2017. Congratulations to you both on this wonderful achievement!
Stay safe, and let's look out for each other.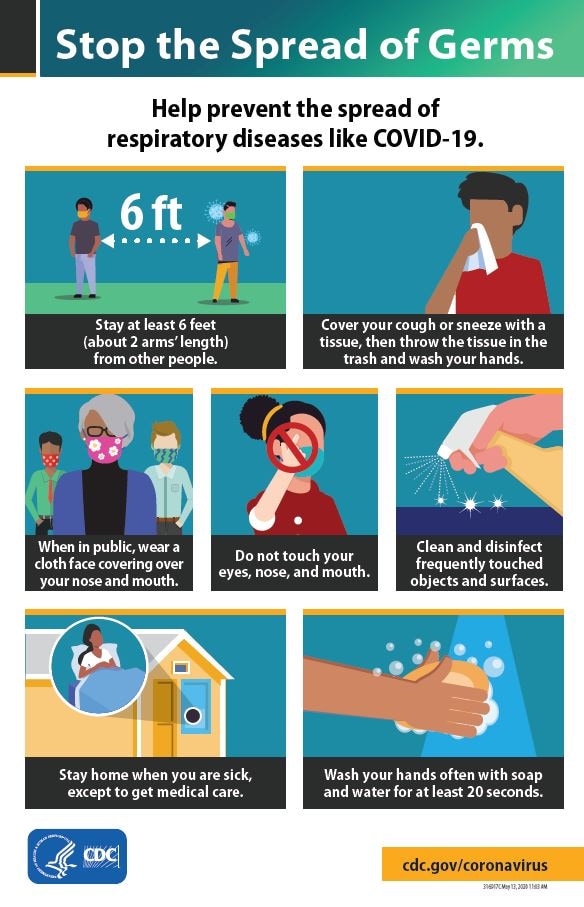 WBJ Family Business Awards
March 6, 2020 - We would like to extend a BIG thank you to the Wichita Business Journal for recognizing Lubbers as a 2020 Family Business Award recipient. The friendly way to buy is a commitment we've delivered since 1984, with the help of our awesome family of employees. We love what we do, and we're glad it shows!
Catholic Charities Cruise Night
February 24, 2020 - Another fun and successful Cruise Night is in the books! Proceeds from this annual fundraiser support programs such as St. Anthony Family Shelter and Harbor House for women and families in crisis. We are grateful for the life-changing support you provide to our community!
2020 First Pitch Banquet
February 10, 2020 - We were once again glad to be a part of WSU's First Pitch Banquet. We look forward to another exciting season of baseball and cheering on our Shockers!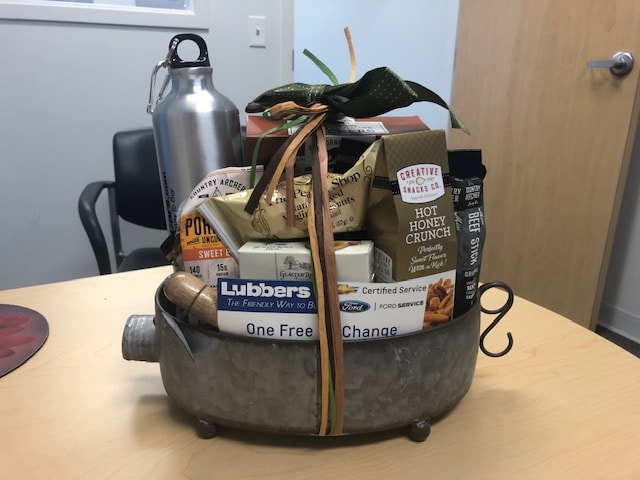 Make a Difference Day 2019
September 23, 2019 - This basket will be up for bids at Cheney's annual Make a Difference Day on Saturday, Oct 5th. The fun starts at 6:00 pm at the Cheney Farm Bureau Building, and funds raised will go towards improvements at that location. Raffle proceeds will benefit the Police Department/DARE Fund. Thank you for supporting our hometown!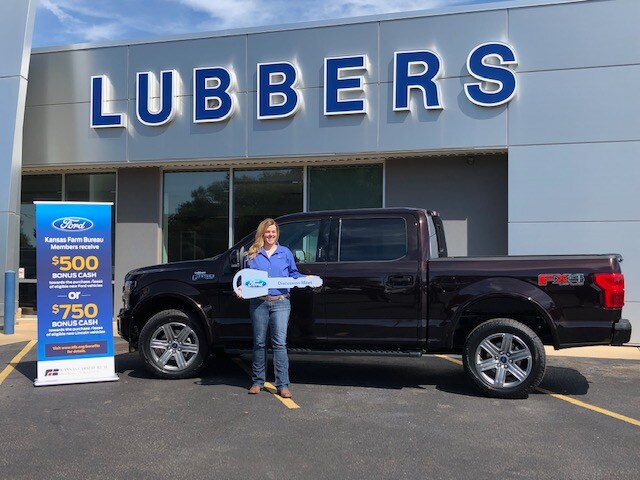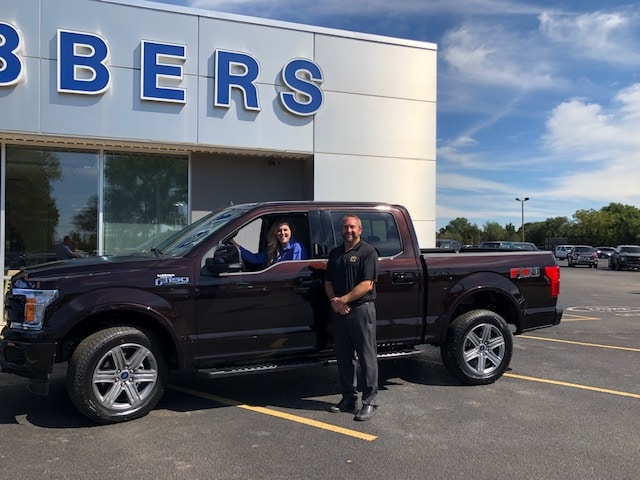 Young Farmers and Ranchers Discussion Meet Winner
September 13, 2019 - Lubbers would like to congratulate Jackie Mundt for winning the Discussion Meet at the 2019 American Farm Bureau Federation's 100th Annual Convention. In doing so, she was awarded a new Ford truck, and opted to purchase from our very own Mark Lubbers. Thank you Jackie for representing the state of Kansas in this nationwide event, and for placing your trust in us to deliver your Ford F-150. Congrats, and enjoy your new ride!
Cherry Oaks Benefit Tournament
June 6, 2019 - Make plans to join us Sunday, June 23rd for the 19th annual Friends of Cherry Oaks Golf Tournament. This four person scramble has start times at 8:00 am or 1:30 pm, and the entry fee includes green fees, cart, range balls, flight prizes, lunch and beverages throughout the day. This event has funded more than $300,000 in improvements to the golf course so far, and promises to be a great time for all attendees! For more information or to sign up a team, contact the Pro Shop at (316) 540-0133.
2019 FFA Scholarships Announced
June 4, 2019 -  Lubbers is proud to announce the recipients of this year's Built Ford Tough FFA Scholarships as Kimberly Achilles of the Haven Chapter, and Makenzie Cox of the Cheney Chapter. Kimberly plans to major in Pre-Vet/Vet Medicine or Sciences, and Makenzie's intended major is Biology. We are proud of your accomplishments, and wish you the best!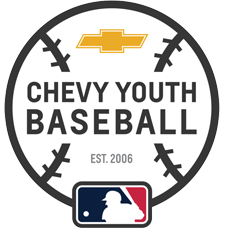 FREE Chevy Youth Baseball and Softball Clinic 
March 25, 2019 - 

Your local Chevy dealers are once again offering your community a FREE youth baseball and softball clinic for kids ages 5-14 (special needs participants of all ages are welcome)!
Please see the clinic details below and help spread the word by sharing this opportunity with kids in your community. Spots are limited so we encourage you to register for this experience right away using the registration code "playball".
Saturday, April 20, 2019
Northwest YMCA 
13838 W 21ST ST. N 
WICHITA, KS 67235
Check-In: 8:00 AM - 9:00 AM
Rotations: 9:00 AM - 12:00 PM
Snack: 12:00 PM
- OR -
Monday, April 22, 2019
Legends Park 
600 W ROSS BLVD 
DODGE CITY, KS 67801
Check-In: 4:30 PM - 5:30 PM
Rotations: 5:30 PM - 8:30 PM
Snack: 8:30 PM
* Please note if you are unable to get your participant(s) there by the start time of the clinic, we accept late check-ins! Please do not let that hinder your child from participating in this experience!
Online Registration is Easy!
1.     Go to chevrolet.com/youthsports
2.     Click on the gold "Clinic Registration" box.
3.     Select the following name from the drop-down menu: Wichita and then click "Go!"
4.     Enter the registration password "playball" for free entry into the clinic, and then click "Submit".
5.     Complete the registration form and download the waiver. In addition to registering before the event, participants are required to bring a signed waiver form to the registration table on the day of the clinic.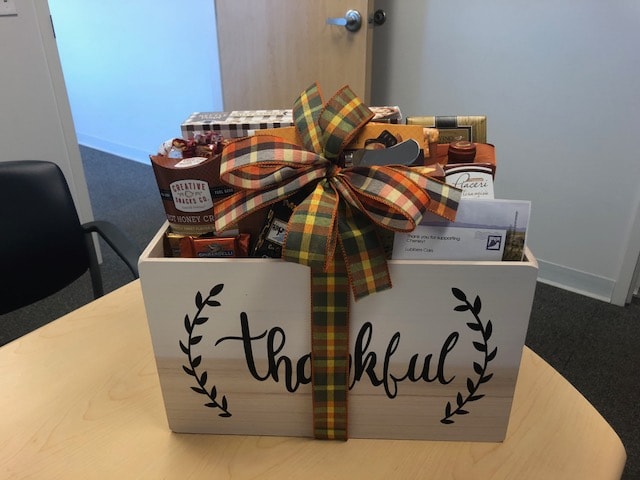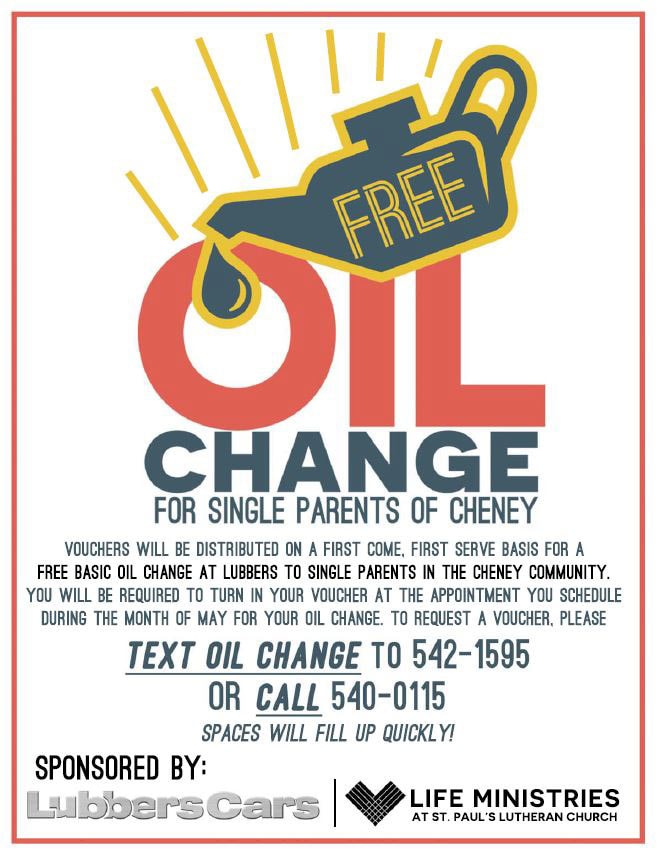 Hours
Monday

8:00 am - 7:30 pm

Tuesday

8:00 am - 7:30 pm

Wednesday

8:00 am - 7:30 pm

Thursday

8:00 am - 7:30 pm

Friday

8:00 am - 6:30 pm

Saturday

8:00 am - 5:00 pm

Sunday

Closed