Welcome to Our Ford Finance Center in Cheney, KS
At our Chevy and Ford dealership in Cheney, we understand that purchasing a new or used vehicle can be a significant financial decision. That's why the experts at our finance center is here to help guide you through the process and make it as stress-free as possible. Our team of experienced Ford finance specialists is committed to helping you find the best Chevy price offers and new car specials to fit your budget and needs.
Explore our many finance options to learn about applying for financing and getting pre-approved, our current car specials, the benefits of buying vs. leasing, how to value your trade-in and more!
Apply for Financing
The first step in purchasing your new Chevy or Ford vehicle is to apply for financing. By completing our online application, you can expedite the purchase process and allow us to pair you with any Ford specials or Chevy price offers you may be eligible for.
Our secure and easy-to-use online application ensures that your personal information is protected and enables you to apply for financing from the comfort of your own home.
Get Pre-Approved
Want to get pre-approved for auto financing? Once you've submitted your finance application, our team will work diligently to secure your pre-approval. This will provide you with an idea of your loan terms, including interest rate and monthly payment, so you can budget accordingly.
Getting pre-approved also demonstrates to our sales team that you're a serious buyer, which can help speed up the negotiation process when you visit our dealership.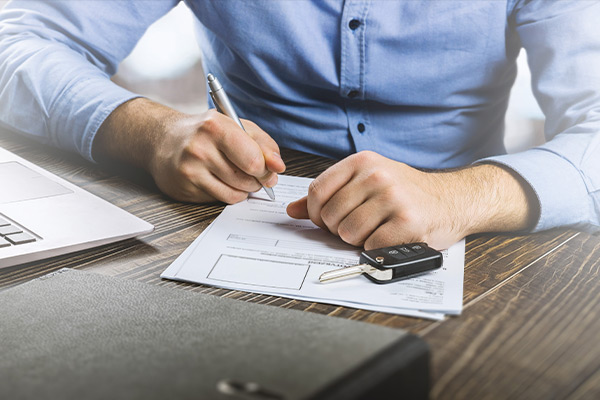 Buying vs. Leasing
Deciding whether to buy or lease your new car is an important decision. Each option has its benefits, and the right choice depends on your individual needs and preferences. Buying a car allows you to own the vehicle outright after you've paid off the loan, and you can customize it as you wish. Leasing offers lower monthly payments and the opportunity to drive a new car every few years.
Our finance team can help you weigh the pros and cons of each option to determine which is best for you.
Value Your Trade
If you're looking to trade in your current vehicle, value your trade now! By providing us with some basic information about your current vehicle, including its make, model, year and condition, our team can provide you with an estimate for your trade-in value.
This can help offset the cost of your new Chevy or Ford, making it even more affordable.
Auto Loans & Lease Options Near Me
Visit our Kansas Chevy and Ford dealership to experience our comprehensive finance options for yourself. Our knowledgeable and friendly team is here to help guide you through every step of the financing process, ensuring you find the perfect new Ford or used Chevy at a price you'll love.